Dragon, Kaybern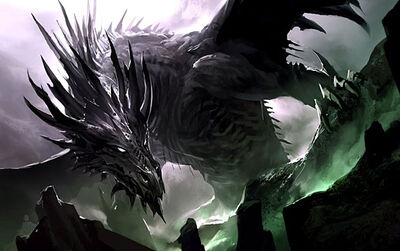 Introduction
Edit
Akryong Kaybern is a terrifying old black dragon (v29c9). He can also appear in a human form.
Akryong Kaybern, dragon form
Edit
We don't know much about his dragon form yet, aside from the fact that Weed was terrified when he first met him in dragon form (v29c9)
Akryong Kaybern, human form
Edit
Appearance
Edit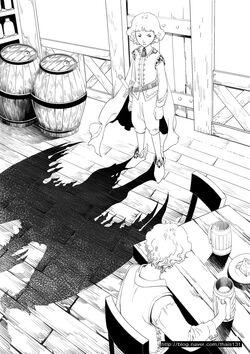 He looks like a young boy, with a very proud temper, black hair and cold eyes. He usually has not the slightest changes in expression on his face.
He wears outfit created by the best dwarven craftsmen. His clothes were created with thousands of threads from a special worm that was woven in three strands, and it required at least 1 month of tenacious effort to make. He also wears winged shoes from Stellese Hill, a barbarian item with an estimated level of 590
Equipment
Edit
His magic sword looks very uncommon and contains a black diamond the size of a duck egg. The scabbard has a complex pattern drawn on it  
Protector of Thor Kingdom ?
Edit
One of the 5 dragons ruling of the Thor Kingdom (v27c8)
Payement for protection
Edit
A fearsome dragon (v29c9), full of greed, who regularly request an immense tribute from the dwarf of the Thor Kingdom (v27c8).
Last Tribute from the Thor Kingdom
Edit
2800 Pieces of Jewelry and Gold Sculptures Request has been given to Weed by the elder of Thor Kingdom (10th part of his master quest) (v27c8)
First dragon quest given to a user
Edit
First request from Akryong Kaybern himself, directly given to a human. A request you cannot refuse, when you are at level400+
It was a given order to Weed who had to sculpt a statue and who received no monetary reward for it (v29c8-9). His only reward was to meet and learn from the last hidden master sculptor.