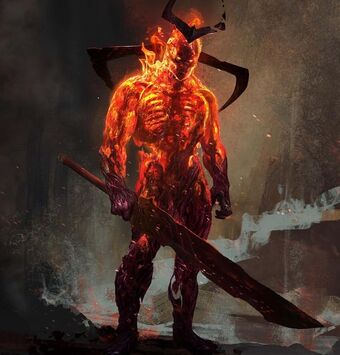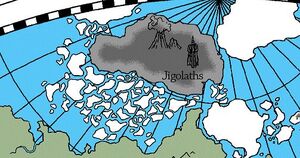 IntroductionEdit
It is a monster warrior living in the volcanic lands of the Las Phalanxs[1]. They are usually hiding in the shadows waiting for prey[2] and are very hard to hunt[3]. Also one of Weed favorite Sculptural Shapeshifting avatar[4].
DescriptionEdit
The Chaos Warriors wield weapons like axes and are numerous in the Jigolaths[5]. They only take a defensive stance before activating their teleportation skill and when their health is decreased they group together[6] Their leader is the powerful warrior, Kubichya and he was the one holding the Dragon Sword, Red Star[7].
Monster InformationEdit
The Chaos Warriors are dominating the Jigolaths[8].
They have a strong affinity with the fire element[11].
Desert warrior can develop a similar ability[15].

Weed battling the Chaos warrior tribe
Weed shapeshifting into Kubichiya
ReferencesEdit