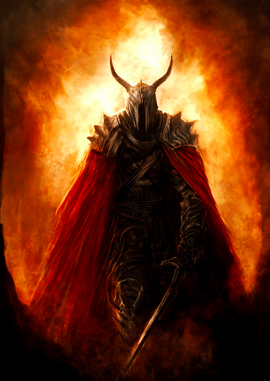 Introduction
Edit
The Doom knight is one of the largest and strongest undead soldier[1] Their physique are almost inhuman, they are Bar Khan's strongest assets and bare the title of highest ranking officers.
Description
Edit
The doom knight is the ultimate Combat Undead, after Abyss Knight and Lich. Compared to a death knight, the physical features changes : a doom knight is more muscular, his legs are longer and his arms thicker. They are taller by 40 centimeters and have a large physique, almost similar to a Barbarian . Their combat level is over level 300 [2] and their first attribute is black magic.
Special Skill
Edit
When a Death Knight advances to a Doom Knight, his abilities increase :
All Advanced Combat skills are higher by at least two levels[3].
All combat related spells are at least 15% higher [4]
Can wear bone armor[5] with an excellent defense.
Special Movement skill
Edit
The Doom Knight can[6]:
pass through walls like ghosts.
jump dozens of meters like He had wings.
More to come
Weaknesses
Edit
Boss Class Monster
Edit
Their level of leadership is high and they can even command an army[7]. They are under Bar Khan's direct command[8] and they can have their own personal followers: Doom Scouts, Doom Servants and even Doom Wizards[9].
More features
Edit
Saga of the Lich Bar Khan
Edit
They were Bar Khan generals. They are raised from a dark knight to Doom knight through Bar khan's magic. Only the best dark knight are selected. It requires at least a level 3 necromancer spell[10].
Saga of the Abyss Knight Van Hawk
Edit
They were Van Hawk Imperial troops, 800 of them, attacking the City of Reinstadem, occupied by Haven's troops[11].
References
Edit