"Most of the monsters in the Lands of Despair were over level 300 and often possessed unique abilities". v5c8
Doppleganger is a very good example of a unique ability. 
First mention in v5c5 in the village of Exile.
NPC Race
Edit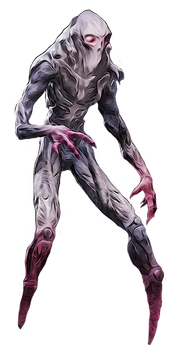 Generally sees human as playthings.
Special Skill
Edit
Can "Use magic and often can do something completely unexpected, causing confusion". 
High level of mimic ability, equivalent to a shape shifting spell.
A monster love for an NPC. Quest token and solved by Weed to help the girl Amy, a boy's beautiful sister (Moss) in the village of exile.
Ad blocker interference detected!
Wikia is a free-to-use site that makes money from advertising. We have a modified experience for viewers using ad blockers

Wikia is not accessible if you've made further modifications. Remove the custom ad blocker rule(s) and the page will load as expected.