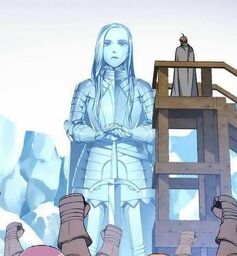 Made this Sculpture in order to resist the freezing cold of the north while he and the paladins hunt and level up
Background 
Edit
Made this Sculpture in order to resist the freezing cold of the north while he and the paladins hunt and level up
Appearance 
Edit
 On the sculpture was a steel plate that covered the whole body, giving it an intense look. The model for the armor was based on the ones that the paladins were wearing. One would worry that it would look awkward, but the armor suited Seoyoon too well. The eyes in the statue seemed to be their own. It's clear and innocent eyes.  

When the sun reflected and shone brightly. The sun's rays systematically fell onto the beauty. The beauty was shining in numerous brilliant colors. It seemed as if the light would wrapped around the nearby people. The light changed the statue
Statue Completed: The Ice Beauty:
In the cold and desolate lands of the north. The feelings of the people and the earth allowed this statue of beauty to be born. Unlucky travelers that fall into difficulties and troubles will visit this small oasis. Here the travelers could receive sweet rest. An unbelievably high degree of perfection and beauty! An artist created a beauty with a mysterious atmosphere out of ice. A work deserving of praise.
Artistic Value: 750
Special Effects:
Health and Mana regeneration increased by 17% during the day.
Special resistance against ice-based magic.
+40% Cold resistance.
3% Chance to reflect an enemy attack.
30+ Attractiveness stat.
These effects do not stack with other statues.
Number of Fine Pieces Created: 3
걸작! 얼음 미녀 상을 완성하셨습니다!
      춥고 황량한 북부의 대지.
      인간의 정이라곤 찾아보기 힘든 땅에 미녀의 상이 탄생하였다. 고난과 시름에 빠진
      여행자들에게는 사막의 오아시스를 방문한 것처럼 행운이 아닐 수 없다. 이곳에서
      여행자들에게 험난한 여정을 지속할 수 있도록 달콤한 휴식을 줄 것이다. 놀라울 정
      도의 완성도와 아름다움! 얼음으로 만들어져 신비한 분위기를 가진 미녀상은 예술가
      의 찬사를 받을 만한 작품이다.

      예술적 가치 : 750.

      특수 옵션 : 얼음 미녀상을 바라본 이들은 생명력과 마나 회복 속도가 하루 동안 17%
                  증가한다.
                  추위에 대한 내성 40% 상승.
                  빙계 마법에 대한 특별 저항력.
                  적의 공격을 3% 확률로 반사한다.
                  매력 스탯 +30.
                  다른 조각품과 중복 적용되지 않음.

      지금까지 완성한 걸작의 숫자 : 3                                               

Level Up: Sculpture Mastery (Intermediate Lv: 5 | 0%):
Sculpting is more delicate and detailed.
Level Up: Handicraft (Intermediate Lv: 7 | 0%):
The ability to use hand tools has increased by an additional 5% and various other skills will be affected by the skill.
Fame has risen by 320 points (+320 FAME)
Art has risen by 45 point (+45 ART)
Endurance has risen by 4 points (+4 END)
Perseverance has risen by 3 point (+3 PER)
Luck has risen by 40 points (+40 LUC)
Location
Edit
Somewhere in the North Continent
Vol 3 Ch 9
Ad blocker interference detected!
Wikia is a free-to-use site that makes money from advertising. We have a modified experience for viewers using ad blockers

Wikia is not accessible if you've made further modifications. Remove the custom ad blocker rule(s) and the page will load as expected.