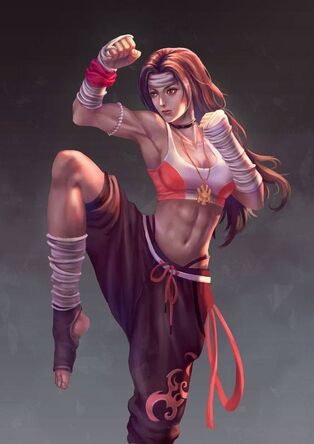 Introduction Edit
Yoon Soo Park[1] is one of Weed's friends and is the same age as Yurin[2]. In Royal Road she plays as Surka, a Monk, and met Weed on the outskirts of Serabourg City during their newbie phase, she has a frank and direct personality[3] different from Romuna, her older sister.
Profile and dataEdit
Gender: Female
Race: Human
Level: +400<[[ref>Volume 29 Chapter 4]]</ref>
Status: Alive
Affiliation:Arpen Kingdom
First appearance: Outside Citadel of Serabourg, Rosenheim Kingdom[5]
Stats and skillsEdit
Monk is a close combat class[6].
As a monk, she is a fast fighter, she specializes in rapid punches.[11]
She is the first player to ask Weed to become a part of her party which already had Romuna, Pale and Irene.[24]
She also joined the Rosenheim Kingdom Punitive Force leaded by Darius against the Lizardmen surrounding Bairan Village[25].
She was in Weed's party when they reached the City of Heaven, Lavias, leading to the discovery of the Memphis Hall dungeon [26].
She reached level 232 at the asme time as the Tomb of King Theodarren's construction[29], around level 270-280 just before the Plains of Despair Battle against the Undead Legion[30], reached around level 296 after defeating the Undead Legion and doing quests in the Plains of Despair, she was level 403 before entering the tomb of King Belsos[31].
Her opinion about the Geomchis is that they look scary and that is the reason why they are unattractive to the opposite sex[32].
She became a Lord in the Arpen Kingdom after Weed gave her a piece of territory in the northern colonies[33].
Fighting StyleEdit
She learned to analyze the enemy while attacking it to find its weakness[34].
Master QuestEdit
She decided to master her monk skills before proceeding with Master Quest[36].
References Edit