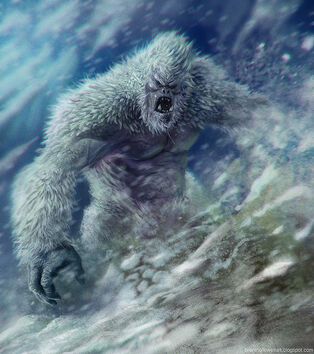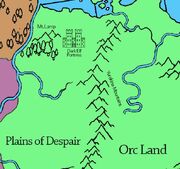 IntroductionEdit
Yeti are huge, ape like monsters, that live in very cold area like Yuroki Mountains in the Plains of Despair[1].
DescriptionEdit
They live in small tribes, in stone caverns.
And the male spend most of their time hunting to provide food for the tribe.
They are adapted to extremely harsh cold weather condition, have white fur, and their body even radiate coldness[2].
Monster InformationEdit
Limitations
Weak to heat and fire magic
Low intelligence, basic battle tactics
These monsters habitat was in higher altitude in the Yuroki Mountains but were driven out to the Yunopu Canyon by other monsters[13]
The Yetis also live in the Horom Moutain, Yuroki's highest peak[14], where a larger tribe can be found.
Yeti hides are a very valuable item, clothes made from it can protect from the cold[15].
When Weed cooked and ate the yeti's meat, it provided a strength bonus to his stats[16].
Weed, Pale, Irene, Romuna, Surka, Zephyr, Mapn, Hwaryeong and some of the Geomchis went to hunt Yetis in the Horom Mountain[17].
Weed sewed Yeti Leather Clothes from the loot he picked and gave it to his friends[18].
ReferencesEdit