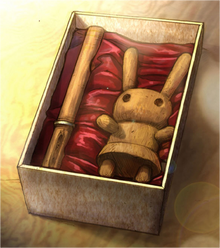 Background

A unique item. Weed obtained Zahab's Sculpting Knife after completed second chain quest [The Sculptor's Past]. [1] He obtained it from the old maiden who used to served the late Queen Evane. Main purpose of Zahab's Sculpting Knife is for sculpting, as it is better than typical sculpting knife, and it deals a lot of damage.
It is one of the earliest item Weed obtained in his early day in Royal Road. In spite of its advantage to deal a lot of damage, Weed don't prefer it in early days due to its short size and can't reach far but he used Hard Iron Sword instead. [2]
Item Information
This is the stat of the item when Weed first identify it.
Zahab's Sculpting Knife
Durability: 984/1000
Damage: 40~54
A short tiny sculpting knife, specifically built for delicate workmanship. This knife is very sharp.
Effect:


Increases your chances of scoring a critical hit.
Trivia
Other than sculpting, Weed also used Zahab's Sculpting Knife to peel potatoes.
References
↑

Volume 1 Chapter 3

↑

Volume ? Chapter ?
Ad blocker interference detected!
Wikia is a free-to-use site that makes money from advertising. We have a modified experience for viewers using ad blockers

Wikia is not accessible if you've made further modifications. Remove the custom ad blocker rule(s) and the page will load as expected.